PAWN LOANS CASA GRANDE
PAWN LOANS MAKE FINANCIAL TROUBLE EASIER IN TOUGH TIMES
Our pawn shop provides PAWN LOANS and will give you the most cash on just about anything of value.  We offer the highest and most aggressive cash payouts for pawn loans on your items at our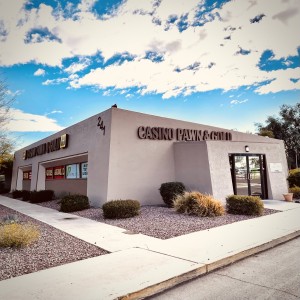 Casa Grande Pawn Shop.  We also serve the Coolidge, Maricopa, Eloy, Arizona City, and Florence Area.  In addition, all pawn loans from our pawn shop in Casa Grande, are quick, reliable, licensed, and we keep all items monitored and safe.  Because Casino Pawn and Gold, is Arizona's newest and most exciting Pawn Shop!  And we look forward to providing our customers with the cash they need in times they might need it most.  Most importantly, we pay cash for gold, silver whether its designer, scrap, coins or bullion, Casino Pawn and Gold will loan you the most money on a pawn loan.
We can loan you cash on the spot for diamonds, estate, vintage and antique jewelry, watches, rings, earrings, bracelets, necklaces or other even just loose stones. Stop into our store in for an estimate today.
When you walk into our store, you'll know you've chosen the right place to go!  Because we have the experience needed to assess your valuables accurately, and provide a welcoming and friendly environment to enter!
Valuables You Can Get Fast Cash With Pawn Loans Casa Grande!
Needing some fast cash, and have something of value you'd like to pawn?  Here's a list of things that can bring you the cash you need:
Game Consoles
Electronics

Cell Phones
Apple Electronics

Tools
And so much more!
All of our assessments of valuables are free of charge, and are free from any obligation to accept our cash offer. *There is a charge for authentication services on luxury items.
Pawn Loans
Our pawn loans are for a total of 90 days.  For the duration of the loan, we will keep your property safe and secure in our facility until your return.  In addition, it is our policy to offer the highest percentage possible on pawn loans.  Therefore, there is only a slight difference in our offers for a pawn loan, compared to our selling offer.
There is no police ticket fee.  Although it is our responsibility to work with the police department, and to guarantee our customers that we do not accept stolen property.  Therefore, we do turn over the receipts of all items received, bought or pawned, to ensure that none of it has been reported stolen.
You are more than welcome to pay off the loan at any time during the 90 days, without any additional charges being added for early payment.  In fact, we will deduct a redemption discount from the total amount due, if the loan is paid in full prior to the 60th day of the contract.
However, if you are running close to the end of the 90 days, and are struggling to pay of the loan, come in and talk to us.  Because, we truly want to help you.  Not cause you more stress!  If need be, with paying only the interest accrued, we can write up a new loan, to buy you more time, and retrieve your items.
Casino Pawn and Gold is here to help Casa Grande and surrounding residents.  Whether you are needing to buy, sell or pawn, you will know you are getting the best deal around!