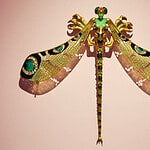 Being in the jewelry business, it helps to be well informed about precious metals and precious gems.  The value they hold, where they are found, and what their significance was from era to era.  Whether it is worn gaudily or modestly, it's been a form of expression since the beginning of time.  Although the time period a ring came from is not how jewelry is valued.  It comes from the purity of the precious metal, the quality of the gems, and their weight.  Therefore, it comes down to what jewelry speaks to you.  Casino Pawn & Gold has an impressive selection of quality antique and turquoise jewelry to choose from.  As a result, we are the jewelry store Casa Grande relies on to buy authentic antique and turquoise jewelry.
Turquoise & Antique Jewelry Are Our Specialty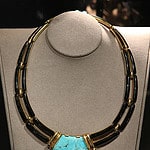 Turquoise has an intrinsic value that has spanned over 5000 years.  Whether it is set in gold or silver are signatures of its time period and where it was created.  In the Southwestern US, it is known to mostly be set in silver.  Since the 1880's the Navajo, Hopi and Zuni tribes began setting turquoise in silver settings.  This is still a current and favored choice of many that seek turquoise jewelry.  Although, in the Victorian Era it was set in gold.  Either precious metal used compliments this stone and makes it seem more brilliant.  In addition, the array of colors can be from a brilliant sky blue, to blue green.  The matrix and color of the veins found in turquoise vary as well.  However, these factors can make it more difficult to work with some turquoise pieces, and can limit on how that stone can be set.
Some Jewelry Designs That Directly Reflected Eras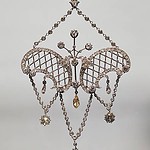 The Victorian Era 1837-1901 – Reflected the prosperity of the time.  Floral motifs, elaborate metal work, colored gemstones, dark metals and seed pearls.
The Edwardian Era 1901-1915 – This jewelry was designed to have a presence of wealth, mostly used platinum.  Minute beading covered the precious metals where the gems did not cover.  In addition, pearls and diamonds were the focus of the settings, with accents of colored gems.  Many are drawn to their wedding and engagement rings from this time.
Art Nouveau 1895-1910 – Reflected in the jewelry with "decorative art".  Their originality and design were and are treasured, using enameling and innovative materials.  Diamonds were accents to amber, moonstone, opals, amethyst and more were the central stones used.
Art Deco 1920-1930s – As a result of the war, women's rolls changed dramatically.  The geometric designs were bolder, cleaner and more rigid lining was themed.  While gold and diamonds were still the prominent gem of the piece, but custom cuts of colored gems were used as accents.
Jewelry Store Casa Grande

Casino Pawn & Gold has a vast selection of jewelry to buy from our location.  We welcome you to come into our store, or click here to see what we have for sale or auction on our eBay page too.  Since 2013, we have been a reputable jewelry store Casa Grande, Eloy, Florence and Coolidge residents as an antique jewelry at reasonable prices.
Casino Pawn & Gold is here to sell, buy or pawn valuable jewelry.  We also provide jewelry assessments free of charge.  Come on in and see what we have in store for you!