WE LOAN THE MOST WITH GOLD LOANS IN CASA GRANDE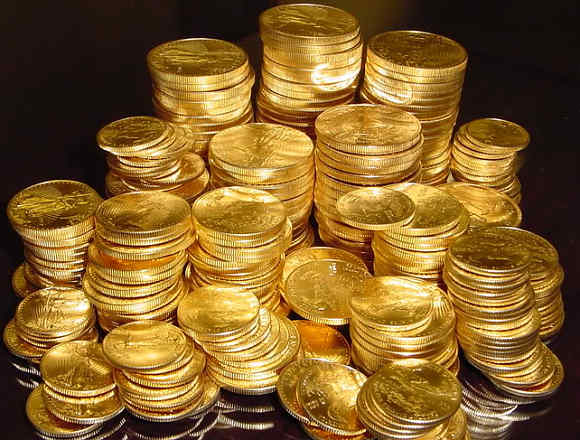 How does a loan on your gold work?
There are very few things you can think of that are easier then getting a Gold Loan in Casa Grande. You bring us your gold and our trained professionals will test it for purity, weight it,  and within moments will be back to give you a price in Casa Grande.  All gold loans are for 90-days where you would pay back the principal plus interest within that time frame. You could also payback just the interest which would renew your loan for another 90-days. If you can't pay back the gold loan in full at its maturity, you may surrender the gold as full payment with no further obligation on your part.
Why take out a loan on your gold?
Why not? If you need cash but perhaps your credit isn't good or you have no credit, then taking out a pawn loan or collateral loan based on the value of your gold could provide you with the money you need when you need it most. Although the value of gold fluctuates (as does just about everything else), gold prices generally remain high and continue to rise which means more money for you. It really is as simple as that. If you need cash, but don't want to sell it and have it be gone forever, it's a good idea to use our loan services. Stop by in Casa Grande so we can evaluate your gold. We would then write up a 90-day loan and you would receive cash. This way, you can get the money you need, but still be able to keep your gold with our gold loans! Dont forget we also serve, Coolidge, Maricopa, Eloy, Arizona  City, and the Florence Area.
What type of gold will you loan on?
Casino Pawn and Gold will loan on any and all types of gold. We will give loans on everything including gold chains, gold rings, gold watches (working or not), broken or damaged gold jewelry, estate jewelry, dental gold, gold brooches, gold pendants, gold cufflinks, and gold earrings. No matter what condition the gold is in, we will loan on it in Casa Grande in our pawn shop with our certified gold loans!
Why should you come to Casino Pawn And Gold?
Casino Pawn And Gold and its affiliated companies have been in business for over 20 years buying and lending on all types of gold in Casa Grande, and the surrounding areas of  Coolidge, Maricopa, Eloy, Arizona  City, and the Florence Area. We have the knowledge, experience, and cash to make you want to come back and see us, therefore, you can be sure you are getting the most money for your gold. We will make sure to store your gold properly in our high-security safe so that you trust us in the future with our certified gold loans from our pawn shop in Casa Grande.