In Arizona, there is a city that is perfectly located between Phoenix and Tucson. It's name is Casa Grande.  It is a humble place that continues to grow, yet still has the nuance of an endearing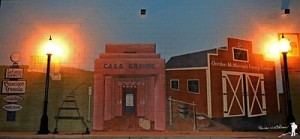 small town.
Settlers found this is an ideal location in the midst of the Arizona mining boom in the 1800's.  With copper here to mine and the Southern Pacific Railroad, it was the place to call home for them.
Although, in the 1890's this town was almost completely abandoned.  Major setbacks like the fires in 1886 and 1893, along with the fading of the mining industry, things looked bleak.  Thankfully, a sustainable industry was found to be cultivated from agricultural farming here.  The land produced cotton farms, along with dairy farming being implemented, the town found its foundation to build upon.  Most importantly, dairy and agricultural farming continues to be a way of life and job opportunities to this day.
Casa Grande and 2 Interstate's
In the last 20 years, Casa Grande has more than doubled its population.  This city was formed with ensuring they had access to the railroad, and now is connected to 2 Interstates.  Because of the I-10 and I-8, the commute for work to Phoenix or Tucson is minimal.  This scenario is what started the rise of the city's population and a growing demand for more restaurants, stores and gas stations to open as well.
However, the interstates have also paved the way for larger corporations to see our city as a smart move.  In addition, networking and expanding business opportunities with the entire Southwestern region expands growth as well.  This location has made the area a great investment for Lucid Motors to open an electric car manufacturing facility.  Most importantly, it adds more job opportunities for our citizens and adds more stability to our economy.
Sights to See
There is a plethora of beauty and history to take in all around this southern region.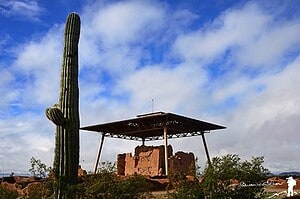 Located nearby in Coolidge, are the Casa Grande Ruins National Monument, where irrigation was clearly utilized for farming for over a thousand years.  This area continues to be an archeological delight for scientists.  Allowing them to study how instrumental and complex societies were from the past, and what we can learn from them.
There is much to see and experience in our area, in multiple ways.  Because we are fortunate enough to have 18 parks to enjoy, including dog parks, a water park and a ballpark.  Whether you are seeking exercise or fun for the family, you don't need to go far to find it.  In addition, there are 7 amazing and beautiful hiking trails to take advantage of and explore.
Shopping Stores and More
The city now has a retail shopping center in Southern Casa Grande.  This invites the surrounding residents of Florence, Coolidge, Eloy to also shop without having to deal with a big city's chaos.  There are over a dozen department and outlet stores to shop and find the staples of clothing, furniture and more for you and yours.  However, there are quite a few antique shops and resale stores in Casa Grande, where you can find fine jewelry, electronics and collectibles more in your price range.  For instance, Casino Pawn & Gold is a place that has many treasures to buy, as well as sell or pawn for cash quickly.
, located on Cottonwood Lane in Casa Grande is not just a pawn shop!  We are one of the best places to find electronics, luxury accessories, and power tools and more at affordable prices.  In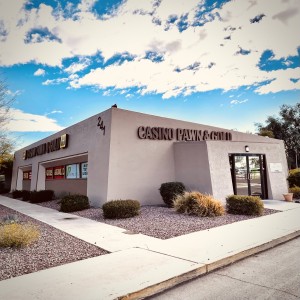 addition, you can shop from the comfort of your home by checking out what is listed on our eBay page.
We are more than just a store though.  Because we strive to make the best offers and turn them into cash in your hands.  Therefore we provide assessments, utilizing some of the most advanced technologies to ensure their accuracy and efficiency.  Allowing us to present our offers with confidence to you, every time.  Whether you choose to sell or pawn your valuables for cash, we want to be the place that offers the most and counts it out in cash to you!
Sell For Cash in Casa Grande
We Provide These Services Too!
Are you needing a large sum of cash fast?  There are multiple title loans to choose from that are provided by Phoenix Title Loans, LLC.  This is a viable way to get a large amount of cash, and not be limited to a short-term loan's time frame.  In addition, you can have the luxury of driving your car while you are paying off the loan.
Are there luxury/designer accessories or shoes you have bought, but want to ensure they were worth the price you paid?  Because our pawn shop has an Entrupy device, along with the app, to analyze your accessories authenticity.  For a nominal charge, you will know if they are authentic, and if they are, get a certificate of authenticity for them.  Call or test us if you have any questions.
Our pawn shop also offers notary services that are mobile or on-site for your legal documents.