Watch Loans from Casino Pawn and Gold in Casa Grande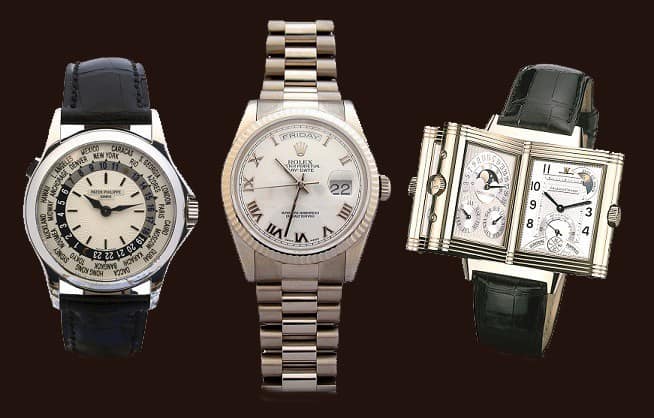 Watches have been a presence in our lives for over 600 years. In fact, clocks can be regarded as one of the oldest devices that were created by our ancestors. By giving us the means to track time, build schedules and control the flow of our daily routine, clocks managed to forge the look of the modern civilization as we know it today. Being the biggest supplier of watch loans, Casino Pawn And Gold is able to make a watch loans on any and all fine watches, located in Casa Grande. We have over 20 years of experience so you can be sure you are getting the most money for your timepieces when stopping into our pawn shop in Casa Grande, serving the surrounding areas of Coolidge, Maricopa, Eloy, Arizona  City, and the Florence Area.
What type of watches do you provide Watch Loans for?
We will loan on Rolex, Cartier, Breitling, Panerai, Hublot, IWC, Patek Philippe, Audemars Piguet, Girard-Perregaux, and many more with our highly rated watch loans.
What if my watch is broken or damaged?
We will examine each watch individually to determine if it is buyable or we can make a watch loan on it. It really is a case by case basis so if you have a damaged watch, stop in and we will see if we can make it work or not.
How do the watch loans work?
Watch loans are written, by law, for 3 months. If at any time during the 3 month loan duration you are able to repay the amount borrowed EARLY, it is possible. Just come in, pay off the loan plus the interest and walk off with your item with one of our watch loans.
If, at the end of the 3 months, you are unable to repay the watch loan amount in full, BUT you can pay only the interest, we will (by law) rewrite the loan for an addition 3 months. This can be repeated every 3 months for as long as you like. Hold onto your cash loan as long as you need, we will work out a payment plan, according to state lending guidelines, to suit your loan needs.
Dont forget we also serve the surrounding areas of Coolidge, Maricopa, Eloy, Arizona  City, and the Florence Area.