Watch Loans from Casino Pawn and Gold in Casa Grande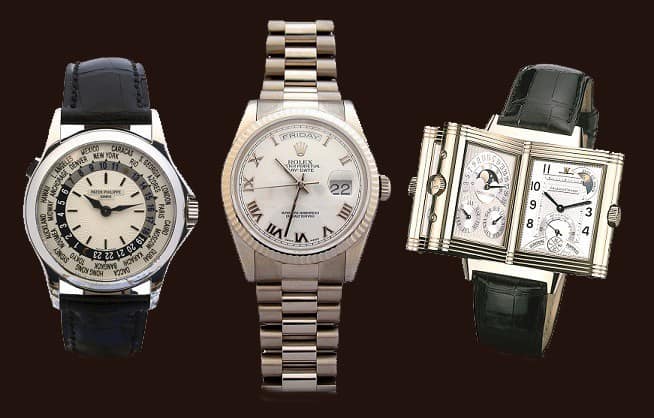 Watches have been a presence in our lives for over 600 years. In fact, clocks can be regarded as one of the oldest devices that were created by our ancestors. By giving us the means to track time, build schedules and control the flow of our daily routine, clocks managed to forge the look of the modern civilization as we know it today. Being the biggest supplier of watch loans, Casino Pawn And Gold is able to make a watch loans on any and all fine watches, located in Casa Grande. We have over 20 years of experience so you can be sure you are getting the most money for your timepieces when stopping into our pawn shop in Casa Grande, serving the surrounding areas of Coolidge, Maricopa, Eloy, Arizona  City, and the Florence Area.
What type of watches do you provide Watch Loans for?
We will loan on Rolex, Cartier, Breitling, Panerai, Hublot, IWC, Patek Philippe, Audemars Piguet, Girard-Perregaux, and many more with our highly rated watch loans.
And this list is not exclusive!  It's important to keep in mind that at Casino Pawn and Gold our watch loans are based solely on the value of your watch.  It doesn't matter what the brand is as long as the watch has any kind of value whatsoever.  In the past, we've even made watch loans on Rolex bands simply because the bands were worth money without the watch face.  If your watch is secondhand for any kind of cash, then we can almost guarantee that you can get a loan on it.
While in most cases we can have you in and out of our store in a matter of minutes, some of the more high end watches can take some extra time to authenticate.  For example, Rolex watches have serial numbers hidden underneath the band which takes a bit of time to validate.  If you've got a higher end watch we always suggest contacting us beforehand so that we can discuss loan offers before you come on down to our pawn shop.
How do the watch loans work?
Watch loans are written, by law, for 3 months. During this 90 day period, you're more than welcome to come and pay off your watch loan at any time.  There are no penalties are fees for early payment.  You'll simply pay off the interest that's been accrued up to that point, plus the principal balance.  After that, we'll send you on your way with your watch in hand.  However, if you simply don't have the money to pay off the watch loan, we can work with you.  With paying only the interest accrued to date, we'll rewrite the loan for you.  At Casino Pawn and Gold, we're here to help you get back to financial security, not add to it.
If you need more money during the ninety days, then bring another watch!  Each pawn loan is based on the value of the collateral you bring in.  In addition, if you are needing more cash than one watch can bring, we can help there too.  We can bundle together multiple watches, under one ticket to get you the stack of cash you need.
Don't forget we also serve the surrounding areas of Coolidge, Maricopa, Eloy, Arizona  City, and the Florence Area.