MAJOR ESTATE JEWELRY BUYER IN CASA GRANDE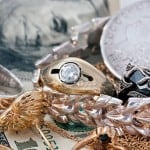 Estate jewelry can take on many different definitions.  Many people simply assume that it's old jewelry, stuff that's been passed down from generation to generation in our family.  When, in actuality it refers to jewelry that was previously owned by another.  Whether it has been handed down for generations as an heirloom, or a piece you've bought, it has the potential to hold a lot of value.  As the estate jewelry buyer Casa Grande residents rely on, our assessment will find its value, and make the best offer possible on it.
Finding Your Estate Jewelry's Value
Most of the value in estate jewelry comes from the precious metal that it is crafted from.  Most jewelry is made of platinum, silver or gold.  Therefore, our pawnbroker will analyze the precious metal with the use of our testing kit.  Because there are two main factors that matter: the precious metal's purity and its weight.
To begin this process, the pawnbroker will locate the jewelry piece's hidden hallmark.  Once that is located, they will rub the jewelry piece on our touchstone, to retrieve flakes to test.  This does not affect its visual appeal, and allows us to verify its purity, or karat it is made of.  After that, our pawnbroker will weigh the jewelry.  Lastly, they will confirm the current spot price of the gold, silver or platinum.
With diamond jewelry, the diamond's are assessed separately from the precious metal, and then combined to provide the best offer possible.  Therefore, our store is well equipped to assess them fast and efficiently.  Each of these precious stones will be analyzed with the Adamas Diamond and Moissanite tester by Presidium.  After that, our pawnbroker will assess the quality of the diamond, considering the 4 C's of diamond grading.  In the end, they will check the diamond's current market value, add both assessments together, and present our cash offer to you.
All of our jewelry assessments are free of charge, and are never under any obligation to accept our offer.
We Are Your Estate Jewelry Buyer Casa Grande Residents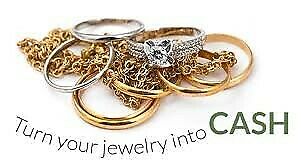 We Buy and Sell Silver, Gold, Platinum, Diamonds, Watches.
Sell your gold, diamonds, coins and watches for top cash. Sell us your scrap gold and broken jewelry too.
Estate Jewelry – Gold Rings – Diamonds – Earrings – Gold Bracelets – Gold Pendants, Drops or Charms – Gold Pins/Brooches – Gold Necklaces – Platinum & Sterling Silver jewelry
Watches – Breitling – Breguet – Cartier – Chopard –  Omega – Panerai – Patek Philippe – Piaget – Rolex – TAG Heuer – Tudor – Ulysse Nardin
Diamonds – Round – Oval – Princess – Square – Radiant – Cushion – Pear – All cuts of diamonds
 If you have a gold or jewelry item not listed anywhere, that you believe we may be interested in, please call us now to speak with our top appraisers and specialists in Tempe.