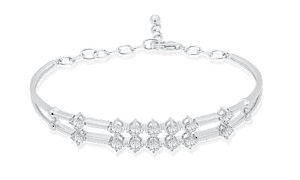 Diamond Jewelry Buyer
When it comes to diamond jewelry, it can be difficult to find a reputable buyer in Casa Grande, Arizona City, or Maricopa.  Casino Pawn and Gold has come down to the wonderful city of Casa Grande; to fill this void and become the city's top buyer of diamond jewelry. Our focus will be on paying worthwhile cash prices for these items no matter its size, condition, or other factors.  All customers can rest assured that they're dealing with only expertly trained professionals. Their expertise accurately evaluates and assess the true value of diamond jewelry.  Let's take a look at the process; factors that must be considered if you are to get an accurate price when selling diamond jewelry.
Appraising Diamond Jewelry
There are so many factors when it comes to assessing diamonds accurately.  The vast majority of diamonds are set in other precious metals like gold and silver.  Therefore, you need a buyer who is able to accurately analyze precious gems, and precious metals too.  All of our diamond jewelry experts have taken rigorous courses to ensure they can accurately pay our customers the price they deserve.
When you bring your collateral down to Casino Pawn and Gold, our associates will begin by analyzing each diamond carefully.  As with almost all diamonds worldwide,  they are graded and appraised by the four C's of diamonds.  This grading system was created by GIA, and is used internationally to appraise diamonds.  The 4 C's are Color, Cut, Clarity, and Carat. Each factor must be analyzed, to correctly determine its overall value.  Clarity, for example, is not as simple as looking at just the surface of the diamond.  Because there are impurities, called inclusions, often found deep within a diamond.
Diamonds in Various Precious Metals & Designs
If the diamonds are set within other precious metals like gold or silver, then we'll also take great care to assess them as well.  Because our staff is well equipped to handle both tasks on-site.
To analyze and confirm the purity of the precious metal, our staff will safely collect samples from the jewelry piece, to test its fineness.  The process in no way affects your jewelry's visual appeal.  It actually keeps your jewelry out of harm's way, and lets us test the flakes we retrieve instead.  Once the analysis of the purity of your gold, platinum or silver, we will weigh it on the scale.  Finally, the spot price will be confirmed, to determine its market value.
After that, the precious metal's value is combined with the diamond jewelry's value.  Then, you are presented with our cash offer.  All of our staff are careful to take every single factor of all diamond jewelry into account to ensure that all of our customers are getting the most value for their jewelry.  In the end, we will combine the value of both assessments to present you with the best cash offer possible.
Selling Isn't Your Only Option
At Casino Pawn and Gold, we understand that you may have sentimental value attached to your diamonds.  And that you may not want to part with them no matter the financial disparity at hand.  Rest assured, we have another option that might fit your needs better. Because we offer diamond jewelry cash loans as well.  For almost the same amount of our cash offer, you can pawn your diamond jewelry on a 90 day loan.
For the duration of the loan, we will keep your diamond jewelry in our vault, until the loan is paid in full.  In the end, you will have your jewelry back in your hands within minutes after paying off the loan.