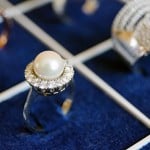 A great deal of silver, gold, and diamond jewelry pass in and out of our hands on a daily basis.  Customers from Casa Grande, Maricopa, Arizona City, Eloy, and the surrounding cities bring their jewelry down to our trusted, expert associates in order to either sell or pawn their item.  Over the years, this has allowed us to amass a massive inventory of used jewelry; ranging from diamond rings, necklaces, gold chains, silver Tiffany jewelry, and unique pieces you can only imagine.  If you're in the market for jewelry, don't throw thousands down the drain by visiting a new jeweler. Spend your money wisely by visiting Casa Grande's top jewelry store: Casino Pawn and Gold!
Our Jewelry Store Services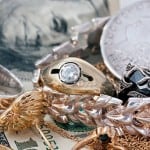 The value that lies in jewelry is solely due to the precious metals (gold, silver, and platinum) that the manufacturer put in the item.  The beauty of being a buyer or seller to a pawn shop is that this is our only factor.  Aesthetics may play a part in the price of truly unique items, but not always. The vast majority of the time the gram content of these precious metals in our jewelry is what sets our price.  This means that our customers are not only getting the fairest price for a jewelry loan; they also get fair estimates when selling jewelry as well.
When our gold, silver, and diamond jewelry hit our floor and enters our inventory, this gram value is all that's considered; meaning, that instead of paying the thousands of dollars of the markup a regular jewelry store would usually charge you is not included whatsoever.  Since when we buy jewelry, we only pay for the precious metal. We only find it fair to offer the same valuation to our customers.  If you're in the market for any used jewelry or have unwanted used jewelry, we're the only jewelry store you should trust.
Also Offering Cash Jewelry Loans
We simply wouldn't be Casa Grande, Arizona City, or Maricopa's top jewelry store if we weren't able to help its citizens; even those unwilling to part with items as sentimental as jewelry.  If you're simply not in a position where you want to part with your diamond or gold jewelry, we understand. But if customers are in need of a fast cash loan infusion, then Casino Pawn and Gold is here to help.  We are more than happy to pawn jewelry instead of outright buying it leaving you the opportunity to come and reclaim your jewelry at a later date.
When you pawn jewelry, you're entering into a cash loan wherein interest accrued over a period of ninety days.  The beauty of this service lies in the fact that it's extremely fast; usually putting cash in your hand within five minutes. That it's a flexible cash loan options that you simply won't find at any other jewelry store.  At the end of the ninety-day loan, if you're not ready to repay the loan in full, that's no problem! We only ask that you repay the interest accrued to that point; we'll happily extend the jewelry loan for another period of ninety days.
Click on the logo below to see the jewelry for sale or auction from our store: